High Frequency RF Power Ceramic Capacitor Alternative for Vishay Draloric and HEC



MATERIAL
Capacitor elements made from Class 1 ceramic dielectric with noble metal electrodes.
Flexible connection terminals copper/brass,
silver plated, to allow for series and parallel interconnection.
FINISH
Noble metal electrodes and terminals protective lacquered.
The contoured insulating rim is additionally glazed.
FEATURES
• Low losses
• High reliability
• High voltage ratings
APPLICATIONS
These high technology are designed for usage in high frequency Induction heating and welding
equipment were high voltage ratings are required.
CAPACITANCE RANGE
50 pF to 6000 pF
CAPACITANCE TOLERANCE
± 10 % ,± 20 %
CERAMIC DIELECTRIC
RATED VOLTAGE
3.3 to 30 kVp (= RF peak voltage + DC voltage)
DIELECTRIC STRENGTH TEST
DISSIPATION FACTOR
Max. 0.006 %
INSULATION RESISTANCE
Min. 10 000 MΩ (at 25 °C)
OPERATING TEMPERATURE RANGE
- 40 °C to + 85 °C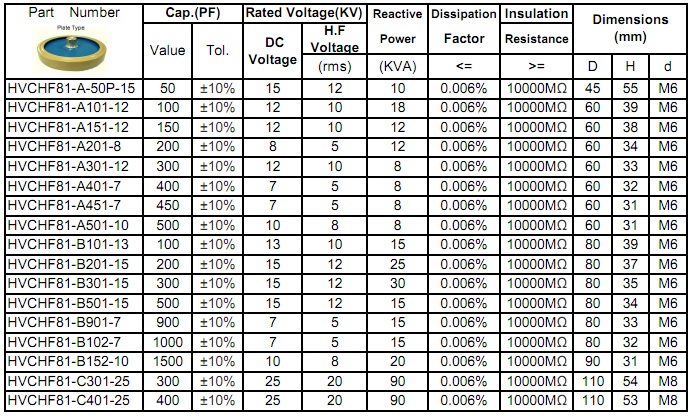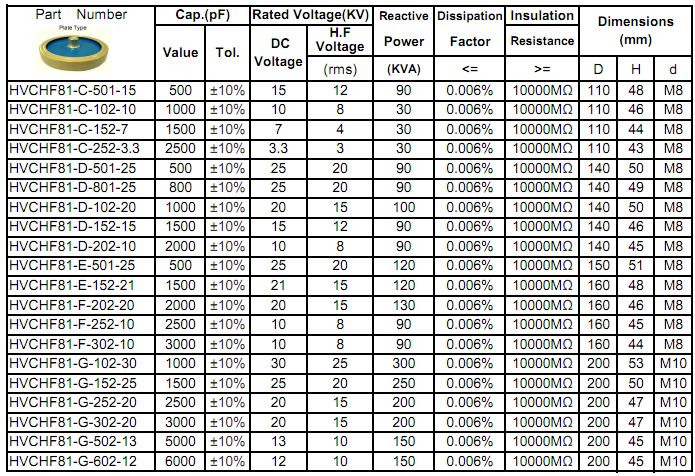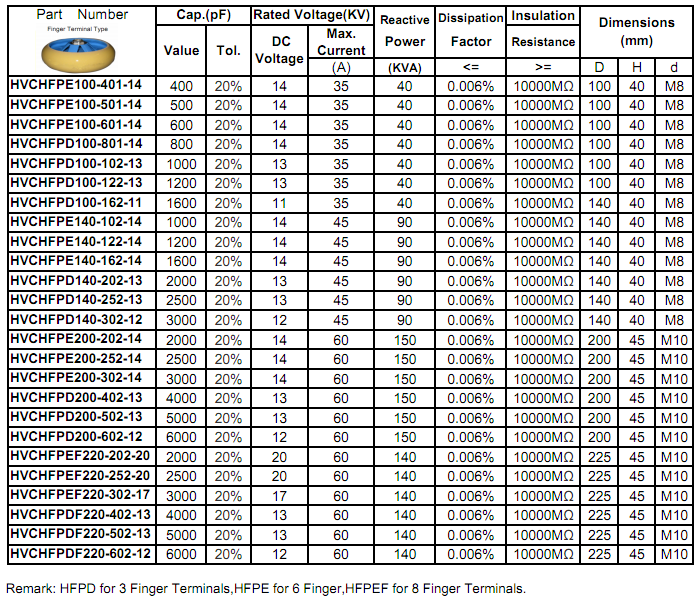 Download Datasheet:

Alternative Replacement for RF Power Capacitor of Vishay Draloric , HEC

RF Power Capacitors is a long history old world craftsmanship type high voltage RF power capacitor.
Suitable for high voltage , high frequency, high current application. Most famous brand is Vishsy -Draloric,
High Energy Capacitor (HEC), both from U.S.A, The world most famous stock distributor for RF capacitor
is Richardson Electronic.
HVC Capacitor offering industry largest selection stock of RF Power capacitor in Chinese military grade
for more than 8 years, is best alternative replacement for Vishay and HEC ,Morgan item.
This type of capacitor have produciton history back to 50 years ago. And also people can find old stock
by USSR made. Back to 50 years ago, East Germany support China to build RF capacitor line, and by 40
years production progress. Chinese RF Power capacitor already gain a fame around global. For its low
losses, high reliability and high voltage ratings features.
Majory Application for RF Power Capacitor include :
1) Radio communication.
2) TV transmiter, radar engineering.
3) Aerospace Satellite
4) Induction heating machine
5) Gem smelting, polysilicon smelting, medical RF equipment
so us to improve power factor and overvoltage protection of equipment.
Major application from India / Indonesia / Thailand and European Country, mostly use in RF induction
heating machine. Manufacturing end user need to find replacement while Vishay model was burn, it is not
easy to find ready stock to replace. And Vishay's distributor and Ebay/Amazon B2C channel cound't offer
proper technical support and also keep continue supply. And most importantly, Vishay RF capacitor is too
much expensive and hard to aquired. Using HVC RF Power Capacitor can solve all above problem. HVC
keep RF Capacitor stock from 7 to 30kv, Rated power up to 160kva and ,diameter size up to 225mm. Can
cover most customer's high frequency capacitor requirement. and engineer may offer some replacement
to hard to find model. general lead time in 3 days making quite fast transation.
Vishay RF power capacitor mostly in plate type (looks like a round plate) and claw type (or we call it finger
type). Plate type usually with no finger, but claw type usually with 3,4 or 6 finger. The claw type design
in higher rated power. and claw design can make the capacitor easier to cooling down. HVC also offer this
two major type RF power capacitor.
Vishay RF power capacitor using Class one ceramic dielectric like R7/R16/R42/R85/R230, The typical
material is R85(N750) HVC RF power capacitor majorly use R85(N750) ceramic dielectric , proving low
dissipation factor to 0.06%. high frequency lower loss featuer making this type of capacitor, can work in
high frequency condition up to 1Mhz but not generate large heat.

Major Vishay RF power capacitor include series P70,P100,P140, P200 and FPE 200, FPE 210. Frequently
use model in European and Amercian market like: PE200,30KV 1000PF, PE200 30KV 1500PF, 14KV 200PF,
20KVA,14KV 500, 20KVA, PE100 ,14KV 800PF, 14KV 800PF,14KV 1000PF.
HEC (High Energy Corp) is famous on their HT Series RF capacitor, like HT50/HT53/HT54/HT55/HT57/HT58
/HT59. using N750 and N3300 ceramic dielectric, HVC Capacitor also proving HEC RF capacitor alternative
solution and keeping huge amount of stock.
Following form listing all Vishay and HEC RF power capacitor model that HVC Capacitor can offer alternative
and replacement.
Part Number
Series
Rated Spec
Reactive Power
VISHAY DRALORIC
FPZ140WV50036BG1
FPZ140
30KV 50PF
90KVA
FPZ140WV10136BG1
FPZ140
30KV 100PF
90KVA
FPZ140WT20136BG1
FPZ140
27KV 200PF
90KVA
FPZ140WV25136BH1
FPZ140
30KV 250PF
90KVA
FPZ140WV30136BH1
FPZ140
30KV 300PF
90KVA
FPZ140WV40136BJ1
FPZ140
30KV 400PF
90KVA
FPZ140WV50136BJ1
FPZ140
30KV 500PF
90KVA
PEZ140WV60136BJ1
PEZ140
30KV 600PF
90KVA
PEZ140WV80136BJ1
PEZ140
30KV 800PF
90KVA
PEZ140BQ10236BJ1
PEZ140
25KV 1000PF
90KVA
PEZ140BJ15236BJ1
PEZ140
15KV 1500PF
90KVA
PEZ140BJ20236BJ1
PEZ140
15KV 2000PF
90KVA
PEZ140BJ25236BJ1
PEZ140
15KV 2500PF
90KVA
PEF220WP16138BF1
PEF220
20KV 160PF
110KVA
PEF220WP20138BF1
PEF220
20KV 200PF
110KVA
PEF220WL25136BF1
PEF220
16KV 250PF
110KVA
PEF220WJ30138BF1
PEF220
14KV 300PF
110KVA
PEF220WF40138BF1
PEF220
12KV 400PF
110KVA
PEF220WN50136BG1
PEF220
18KV 500PF
140KVA
PEF220WL60138BG1
PEF220
16KV 600PF
140KVA
PEF220WP80138BH1
PEF220
20KV 800PF
140KVA
PEF220WP10236BH1
PEF220
20KV 1000PF
140KVA
PEF220WL12238BH1
PEF220
16KV 1200PF
140KVA
PEF220WJ16238BH1
PEF220
14KV 1600PF
140KVA
PEF220WP20236BJ1
PEF220
20KV 2000PF
140KVA
PEF220WP25238BJ1
PEF220
20KV 2500PF
140KVA
PEF220WP25238BJ3
PEF220
20KV 2500PF
140KVA
PEF220WP25236BJ2
PEF220
20KV 2500PF
140KVA
PEF220WM30236BJ1
PEF220
17KV 3000PF
140KVA
PEF220WH40238BJ1
PEF220
13KV 4000PF
140KVA
PEF220WH50236BJ1
PEF220
13KV 5000PF
140KVA
PEF220WF60236BJ1
PEF220
12KV 6000PF
140KVA
PEF220WP60238BK1
PEF220
20KV 6000PF
140KVA
PEF220BJ70238BK1
PEF220
15KV 7000PF
140KVA
PEF220BJ80236BK1
PEF220
15KV 8000PF
140KVA
PEF220WH10338BK1
PEF220
13KV 10000PF
140KVA
P#0070WJ250##BF1
P70
14KV 25PF
15KVA
P#0070WJ300##BF1
P70
14KV 30PF
15KVA
P#0070WJ400##BG1
P70
14KV 40PF
20KVA
P#0070WJ500##BG1
P70
14KV 50PF
20KVA
P#0070WJ600##BG1
P70
14KV 60PF
20KVA
P#0070WF800##BG1
P70
12KV 80PF
20KVA
P#0070WJ101##BH1
P70
14KV 100PF
20KVA
P#0070WH121##BH1
P70
13KV 120PF
20KVA
P#0070WH161##BH1
P70
13KV 160PF
20KVA
P#0070WJ201##BJ1
P70
14KV 200PF
20KVA
P#0070WJ251##BJ1
P70
14KV 250PF
20KVA
P#0070WJ301##BJ1
P70
14KV 300PF
20KVA
P#0070WH401##BJ1
P70
13KV 400PF
20KVA
P#0070WH501##BJ1
P70
13KV 500PF
20KVA
P#0070WF601##BJ1
P70
12KV 600PF
20KVA
P#0070WE801##BJ1
P70
11KV 800PF
20KVA
P#0100BJ500##BF1
P100
15KV 50PF
30KVA
P#0100BJ600##BF1
P100
15KV 60PF
30KVA
P#0100BJ800##BG1
P100
15KV 80PF
40KVA
P#0100BJ101##BG1
P100
15KV 100PF
40KVA
P#0100BJ121##BG1
P100
15KV 120PF
40KVA
P#0100WH161##BG1
P100
13KV 160PF
40KVA
P#0100BJ201##BH1
P100
15KV 200PF
40KVA
P#0100WJ251##BH1
P100
14KV 250PF
40KVA
P#0100WH301##BH1
P100
13KV 300PF
40KVA
P#0100WJ401##BJ1
P100
14KV 400PF
40KVA
P#0100WJ501##BJ1
P100
14KV 500PF
40KVA
P#0100WJ601##BJ1
P100
14KV 600PF
40KVA
P#0100WJ801##BJ1
P100
14KV 800PF
40KVA
P#0100WH102##BJ1
P100
13KV 1000PF
40KVA
P#0100WH122##BJ1
P100
13KV 1200PF
40KVA
P#0100WE162##BJ1
P100
11KV 1600PF
40KVA
P#0140BJ101##BF1
P140
15KV 100PF
67.5KVA
P#0140BJ121##BF1
P140
15KV 120PF
67.5KVA
P#0140BJ161##BG1
P140
15KV 160PF
90KVA
P#0140BJ201##BG1
P140
15KV 200PF
90KVA
P#0140BJ251##BG1
P140
15KV 250PF
90KVA
P#0140WJ301##BG1
P140
14KV 300PF
90KVA
P#0140BJ401##BH1
P140
15KV 400PF
90KVA
P#0140WJ501##BH1
P140
14KV 500PF
90KVA
P#0140WH601##BH1
P140
13KV 600PF
90KVA
P#0140WH801##BH1
P140
13KV 800PF
90KVA
P#0140WJ102##BJ1
P140
14KV 1000PF
90KVA
P#0140WJ122##BJ1
P140
14KV 1200PF
90KVA
P#0140WJ162##BJ1
P140
14KV 1600PF
90KVA
P#0140WH202##BJ1
P140
13KV 2000PF
90KVA
P#0140WH252##BJ1
P140
13KV 2500PF
90KVA
P#0140WF302##BJ1
P140
12KV 3000PF
90KVA
P#0140WL302##BK1
P140
16KV 3000PF
90KVA
P#0200BJ161##BF1
P200
15KV 160PF
112KVA
P#0200BJ201##BF1
P200
15KV 200PF
112KVA
P#0200BJ251##BF1
P200
15KV 250PF
112KVA
P#0200WJ301##BF1
P200
14KV 300PF
112KVA
P#0200WF401##BF1
P200
12KV 400PF
112KVA
P#0200BJ501##BG1
P200
15KV 500PF
150KVA
P#0200BJ601##BG1
P200
15KV 600PF
150KVA
P#0200BJ801##BH1
P200
15KV 800PF
150KVA
P#0200WJ102##BH1
P200
14KV 1000PF
150KVA
P#0200WJ122##BH1
P200
14KV 1200PF
150KVA
P#0200WJ162##BH1
P200
14KV 1600PF
150KVA
P#0200WJ202##BJ1
P200
14KV 2000PF
150KVA
P#0200WJ252##BJ1
P200
14KV 2500PF
150KVA
P#0200WJ302##BJ1
P200
14KV 3000PF
150KVA
P#0200WH402##BJ1
P200
13KV 4000PF
150KVA
P#0200WH502##BJ1
P200
13KV 5000PF
150KVA
P#0200WF602##BJ1
P200
12KV 6000PF
150KVA
FPS060WF10136BH1
FPS60
12KV 100PF
10KVA
FPS060WF20136BJ1
FPS60
12KV 200PF
10KVA
FPS060WF25136BJ1
FPS60
12KV 250PF
10KVA
FPS060WF30136BJ1
FPS60
12KV 300PF
10KVA
FPS060BH50136BJ1
FPS60
10KV 500PF
10KVA
FPS080VY50136BJ1
FPS80
7KV 500PF
15KVA
FPS080VT10236BJ1
FPS80
3.5KV 1000PF
15KVA
FPS110BF10236BJ1
FPS110
6KV 1000PF
30KVA
FPE200WV102##BJ1
FPE200
30KV 1000PF
160KVA
FPE210WV152##BJ1
FPE210
30KV 1500PF
90KVA
High Energy Corp
Series
Rated Spec
Reactive Power
HT57Y100KA
HT57
15KV 10PF
35KVA
HT57Y250KA
HT57
15KV 25PF
35KVA
HT57Y500KA
HT57
15KV 50PF
35KVA
HT57Y600KA
HT57
15KV 60PF
35KVA
HT57Y750KA
HT57
15KV 75PF
35KVA
HT57Y101KA
HT57
15KV 100PF
35KVA
HT57Y151KA
HT57
15KV 150PF
35KVA
HT57Y201KA
HT57
15KV 200PF
35KVA
HT57Y251KA
HT57
15KV 250PF
35KVA
HT57Y301KA
HT57
15KV 300PF
35KVA
HT57Y401KA
HT57
15KV 400PF
35KVA
HT57Y501KA
HT57
15KV 500PF
35KVA
HT50V100KA
HT50
7.5KV 10PF
10KVA
HT50V150KA
HT50
7.5KV 15PF
10KVA
HT50V250KA
HT50
7.5KV 25PF
10KVA
HT50V300KA
HT50
7.5KV 30PF
10KVA
HT50V350KA
HT50
7.5KV 35PF
10KVA
HT50V400KA
HT50
7.5KV 40PF
10KVA
HT50V450KA
HT50
7.5KV 45PF
10KVA
HT50V500KA
HT50
7.5KV 50PF
10KVA
HT50V550KA
HT50
7.5KV 55PF
10KVA
HT50V600KA
HT50
7.5KV 60PF
10KVA
HT50V650KA
HT50
7.5KV 65PF
10KVA
HT50V750KA
HT50
7.5KV 75PF
10KVA
HT50V101KA
HT50
7.5KV 100PF
10KVA
HT50V151KA
HT50
7.5KV 150PF
10KVA
HT50V171KA
HT50
7.5KV 170PF
10KVA
HT50V201KA
HT50
7.5KV 200PF
10KVA
HT50V301KA
HT50
7.5KV 300PF
10KVA
HT50V401KA
HT50
7.5KV 400PF
10KVA
HT50V501KA
HT50
7.5KV 500PF
10KVA
HT50V601KA
HT50
7.5KV 600PF
10KVA
HT50V701KA
HT50
7.5KV 700PF
10KVA
HH58V501KA
HH58
7.5KV 500PF
0.6KVA
HH58V701KA
HH58
7.5KV 700PF
0.6KVA
HH58V901KA
HH58
7.5KV 900PF
0.6KVA
HH58V102KA
HH58
7.5KV 1000PF
0.6KVA
HH58V202KA
HH58
7.5KV 2000PF
0.6KVA
HH58V252KA
HH58
7.5KV 2500PF
0.6KVA