FEATURES
Tube type (thick film, non inductive design)high voltage resisitor.
BSP series use 7.0mm diameter ceramic body
BOP series use 3.5mm diameter ceramic body
For general purpose, max working temp. to 225°C.
TECHNICAL SPECIFICATION
Tolerance of resistanc value: ±0.5% to ±10%
Temperature coefficient: ± 50ppm/°C or ±100ppm/°C
at +25°C~ +105°C Voltage stand:1000VDC
OVER LOAD FEATURE:
5 times of power rating,not higher than 150%
of max continue working voltage, 5 second, R<= ±0.5% ;
LIFE:
1000hours Power rating,R<=±0.50%
HUMIDITY STAND:
MIL-Std-202, 106 R <= ±0.40%
Pitch(Lead) material:antioxidant brass wire with tin coated.
Cap's material:Brass with silver plated(for high frequency application)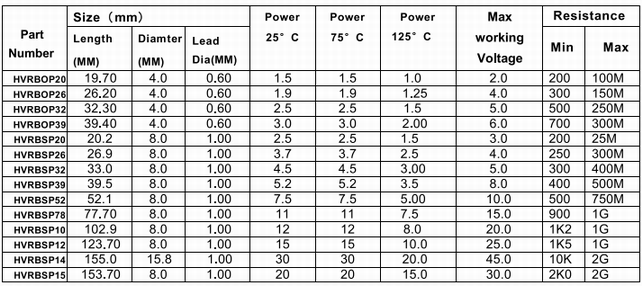 DOWN:Hvr Tube 1p.PDF