GFP/GHP SERIES HIGH VOLTAGE THICK FILM PLANAR RESISTORS,FLAT TYPE




FEATURES
These resistors are quite economic design high voltage resisitor, Able to provide high
denstive assebly in multl application.We have two differerent coating:

GFP Series:
225°C high temperature silicon coating.

GHP Series:
Surface epoxy printing,as an economic option,max withstand voltage in 35kv ,6 different spec,
3mm for biggest thickness,Non-inductive design.Terminal:Standard pin material is tin plated copper.

APPLICATIOIN
• HV Measurement
• Power Supplies
• Medical
• Electrostatic
• Smart Grid Sensing /Metering
• X-Ray
• Motor Control
• Instrumentation

TECHNICAL SPECIFICATION
Resistance range: 200Ω to 2G Ω, higher value upon to request
Tolerance: ± 0.2% to ± 10%
Temperature coefficient: (500MΩ)± 80ppm/° C (+25° C to +105° C)
Max working voltage: 130% rated working votlage
Weight:depends on differernt model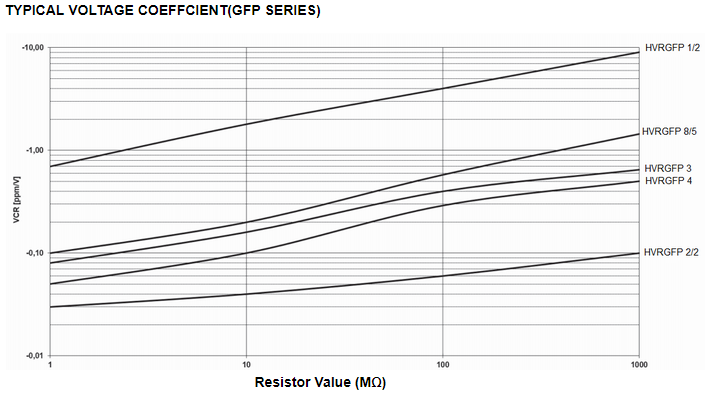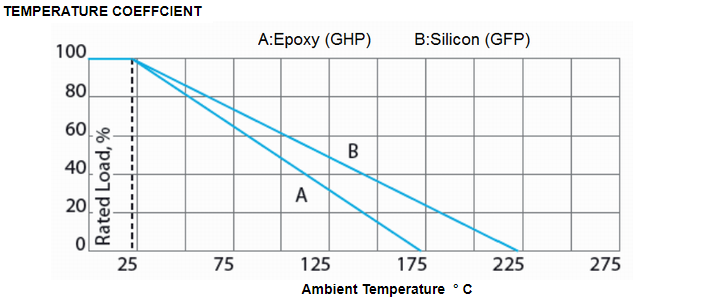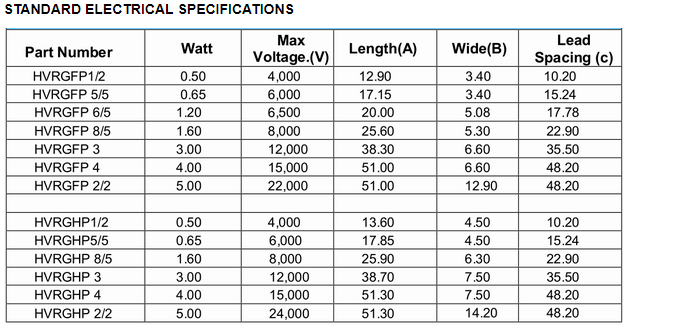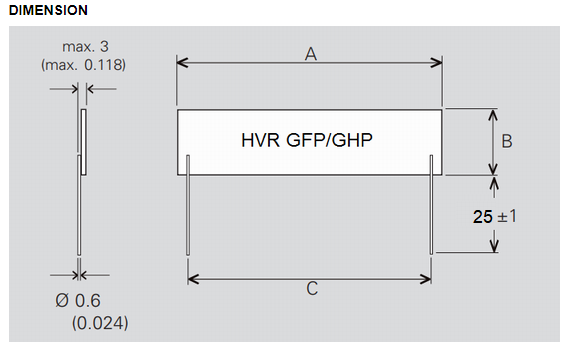 HOW TO INQUIRY?
Kindly select the part number (rated voltage,size,dimensioin), resistance and tolerance.eg. HVRGPF 1/2 500M 5%
Also welcome custom specification requirement.

DATASHEET DOWNLOAD
HVR DATASHEET 2P


CYLINDRICAL TYPE DETAIL HERE


HIGH VOLTAGE HIGH POWER TYPE HERE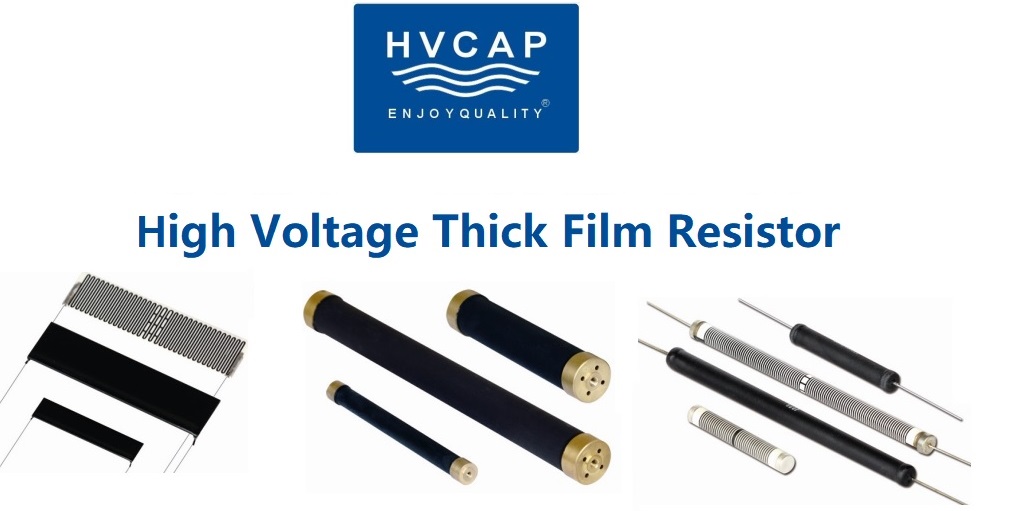 Alternative replacement high voltage resistors for EBG , OHMITE ,NICROM VISHAY high voltage thick film resistor
High Voltage thick film resistor is a modern type non-inductive design resistor ,composite with 96% Al2O3 substrate, and Ruthenium series(RuO2) resistance paste,and burn in 850℃. Comparing to traditional carbon film and metal film resistors. HV thick film resistor offer higher voltage withstand, higher reliability, higher working temperature,and very small temperature
coefficient
and stable
voltage coefficient.
HVC partner with Chinese thick film material engineering expert to start up high voltage thick film resistor business in year 2017. Product range from GHP/GFP range hv resistor in planar type and BSP/GOP type in cylindrical (tube) type, later expand to high energy ceramic resistor. HVC's resistor with same quality to world famous thick film resistor brand EBG, and already well replacing famous high voltage resistor name like EBG ,Ohmite,Vishay ,TT Electronic ...
The world leading thick flim resistor player including EBG resistor in Europe and and Ohmite resistor / Vishay Techno resistor in USA.
EBG resistor start thick film technology in year 1990s, it has broad presence in Europe , America and Asia, they have EBG China joint venture in year 1988 and in 2000, EBG introduction thick film technology to Chinese market. EBG 's product has accept by world top class user include ABB ,Siemens...
The giant Vishay offer their own thick flim resistor product under "Vishay Techno", USA company Techno belongs to Vishay's subsidary Sfernice,
Vishay's major hv resistor market include Europe and USA.
Nicrom also quite famous brand in west Europe Swiss, they are a medium size manufacture but their product is famous for their precision resistors.They also invest a lot to be famous in the internet.Since covid 19, lots of
Nicrom existing customer inquiry our HVC's HVR range thick film resistors as replacement.We believe the pandamic reason cause their production leadtime be heavily extend. HVC do offer same replacement for Nicrom full range
hv resistors
items.
Ohmite is top famous name in American market, They acquired many smaller brand resistor manufacturer like ARCOL to provide them with thick flim technology.Ohmite majorly manufacuturing resistor in Mexico. But it is still not economic enough for mass production end customer.
Ohmite thick film resistor product series include ARCOL ARC2, ARCOL ARC3, Maxi-MOX,Mini-Mox,Slim Mox,Super Mox. Production lead time still as long as 10 weeks.
HVC's HV resistor series, build up by engineer Xuyonglin, who have more than 20 year manufacturing experience in Chinese state own electronic company, also have in-deep technology know how in the field of thick flim, and also with rich marketing experince as general manager for China-Germany joint venture resistor company , then HVC able to apply same European thick film technology in more competitive cost, keeping same level to EBG and Ohmite, Vishay. Production lead time can be 3 to 4 weeks for any type of thick film resistor. HVC's HV Resistor now accepted by famous company like Hitek power,Spellman ,and many other military grade end user.
HVC's HV thick film resistor become well replacement option for high end resistor brand EBG, Ohmite,Vishay.
Major application include X-ray system,high voltage generator,HV precision voltage divider,electronmicrosope and many more.
high voltage resistor,high voltage resistor manufacturer ,high voltage resistor supplier ,high voltage ceramic resistor ohmite resistor ,
ohmite resistor distributor ,ohmite high voltage resistor ,ohmite high power resistor
1) Resistance of HV resistor from 10 Ohm TO 10G Ohm
2) Working Temperature range from -65 ℃ to 275 ℃
3) Minimum temperature coefficient 25ppm/ ℃
4) Best resistance tolerance be 0.1%
5) High Voltage resistor max working voltage 40kv, and max rate power in 30Watt.
Following is popular HV thick film resistor model from EBG ,Ohmite Nicrom and Vishay, HVC's BSP and GHP range can offer standard or custom replacement model.




Film resistor technical background.

What is the different between thick film resistor and thin film resistor.

Thin film and thick film resistors are the most common types in the market. They are characterized by a resistance layer on a ceramic substrate. Although they may look very similar, their properties and manufacturing processes are quite different. The name comes from different layer thicknesses. The thickness of the film is about 0.1 microns or less, while the thick film is about thousands of times thick. However, the main difference is the method of applying the resistance film to the substrate. The film resistor has a metal film which is vacuum deposited on the insulating substrate. Thick film resistor is made by baking special paste on substrate. Paste is a mixture of glass and metal oxides. The film is more accurate, the temperature coefficient is better and more stable, so it can compete with other high-precision technologies, such as wire winding or block metal foil. On the other hand, thick films are preferred for applications that are not strictly required because the price is much lower.

Thin film technology
The resistance layer was sputtered (vacuum deposited) on the ceramic substrate. This produces a uniform metal film of about 0.1 microns. Alloys (nichrome) of nickel and chromium are commonly used. They are produced with different thickness of layers to adapt to a certain range of resistance values. The layer is compact and uniform, which makes it suitable to trim the resistance value by subtraction. By photoetching or laser trimming, patterns can be created to increase resistance paths and calibrate resistance values. The base material is usually alumina ceramics, silicon or glass. Usually, the film is produced as a chip or SMD resistor, but it can also be applied to a cylindrical base with axial leads. In this case, the term metal film resistor is more often used.
Thin films are usually used for precision applications. They have relatively high tolerances, lower temperature coefficients and lower noise. For high frequency applications, the properties of the films are better than that of thick films. Inductors and capacitors are usually low. If it is made into a cylindrical spiral (metal film resistor), the parasitic inductance of the film will be higher. This higher performance requires a certain price, but the cost may be higher than the price of thick film resistor. Typical examples of using films are medical devices, audio devices, precision controls, and measuring devices.
In the 1970s, thick films began to pop. Today, they are the most common resistors in electrical and electronic equipment. They are usually in the form of SMD and are the lowest cost compared to any other technology.
Resistance material is a special slurry with a mixture of adhesive, carrier and metal oxide to be deposited. The adhesive is glass glass material, and the carrier is in the organic solvent system and plasticizer. Modern resistor size is based on ruthenium, iridium and Rh oxides. This is also known as cermet (ceramic - metallic). The resistance layer is printed on the substrate at 850 ℃. The base material is usually 95% alumina ceramics. After the paste is burned on the carrier, the film becomes glass, which can prevent moisture well. The following diagram schematically describes the complete firing process. Thickness is in order of magnitude of 100 microns. This is about 1000 times that of the film. Unlike the film, this process is cumulative.high voltage ceramic resistor.
The temperature coefficient is usually 50 ppm to 200 ppm / K. The tolerance is between 1% and 5%. Because of the low cost, thick film is usually preferred when high tolerance is not required, low TCR or high stability is required. Therefore, these resistances can be found in almost any device with AC plug or battery. The advantage of thick and thin technology is not only to reduce cost, but also to deal with more power, to provide a wider range of resistance value and to withstand high surge conditions.

Customer also can find us from following keywords:
vishay high voltage resistors,
high voltage resistors manufacturers,
ohmite high voltage resistor,
high voltage resistor supplier,
high voltage resistor price,
high voltage resistor divider,
ultra-high voltage resistor company,
ultra-high voltage resistors customized